Why Us?
Lead Detectors has over 17 years of promotion, event and trade show experience on national and international levels. We specialize in providing the most qualified and highest quality talent to our customers in order to obtain quality results for our clients. We are confident that our selection of talent combined with our management team will provide you a successful end result. Our hand picked and qualified talent will demonstrate your products, gather your crowd, excite your audience, promote featured and key products, direct customer questions to the appropriate personnel, maximize press opportunities and much more! We make sure that companies like yours get the most qualified leads possible from a trade show. With our service, your cost per lead decreases significantly. The way we achieve this is by qualifying trade show attendees; we ask a simple question which determine whether or not they are a potential client – due to our diligiance most of them are! If they say yes, we give them a one-sentence description of what your company does (or what your message for this show is) and invite them to speak with your representative. It is a very high-class approach, and most importantly, it works!
About the Founder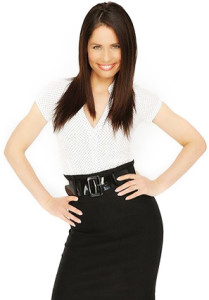 Lead Detectors founder, Andrea Bundalian, has worked full time in the trade show industry since 1997. As a spokesmodel and lead generator for various well known companies, Andrea has been known in the industry for her level of excellence and repeat clientele. In previous years she has even worked repeatedly with companies such as Porsche and Nintendo, and has a hands on experience and a thorough understanding of the needs and expectations of her customers.
Lead Detectors has covered various industries such as: medical, computer, automotive, telecommunication, wireless, food, fashion, marketing, broadcast, animation, and health. Some of our clients include: NVIDIA™, Microsoft™, Olympus™, Audi™, First American Title™, etc. We commonly double to quadruple the amount of qualified leads for our clients.